Description
The lives of my great-grandparents have been a continual source of inspiration. As part of the coal mining and cotton milling communities in Barnsley in the early 20th century, their lives were austere, laced with tragedy, yet shining examples of resilience and hope. Many of the songs on this album describe scenes from their lives, such as 'Gawber Hole', the colliery where Jim worked from the age of 12, and 'Staincross To Skeggie' which details, both Edith-Maude's harsh life at the mill, and the bicycle rides they would take out to the coast, away from the pit wheels and looms. Like so many who lived through the First World War, their lives were irrevocably shadowed by it. Fighting with the Barnsley Pal's Battalion ('The Dirty Five'), Jim loses many dear friends, while Edith-Maude strains to keep their family going despite rationing. The album closes with 'Sing Beneath The Sun', Edith-Maude's plea that Jim free himself from a mining life that was slowly killing him, and realise his dream of becoming a professional musician. With her loving support, Jim never worked the pits again.
This album would not exist without a wealth of stories that have been passed down to me by my mother. I hope that this album will do justice to the lives of Jim and Edith-Maude, and to her endeavour to keep these memories alive.
Working With DiscFactory 
This is the second album I have had manufactured by Disc Factory and the production of the Digifile casing and disc artwork is testament to their attention to detail. From the first phone call to the last stages of CD duplication ,Nat, Ben, and Kian were sensitive to some pretty niche requests I had and were very happy to indulge my rather obsessive approach to the project! (Any fellow obsessives reading this – Disc Factory are just as obsessed as you are!). With this kind of product quality, tech support, and turnaround time, I know who'll be manufacturing my next album.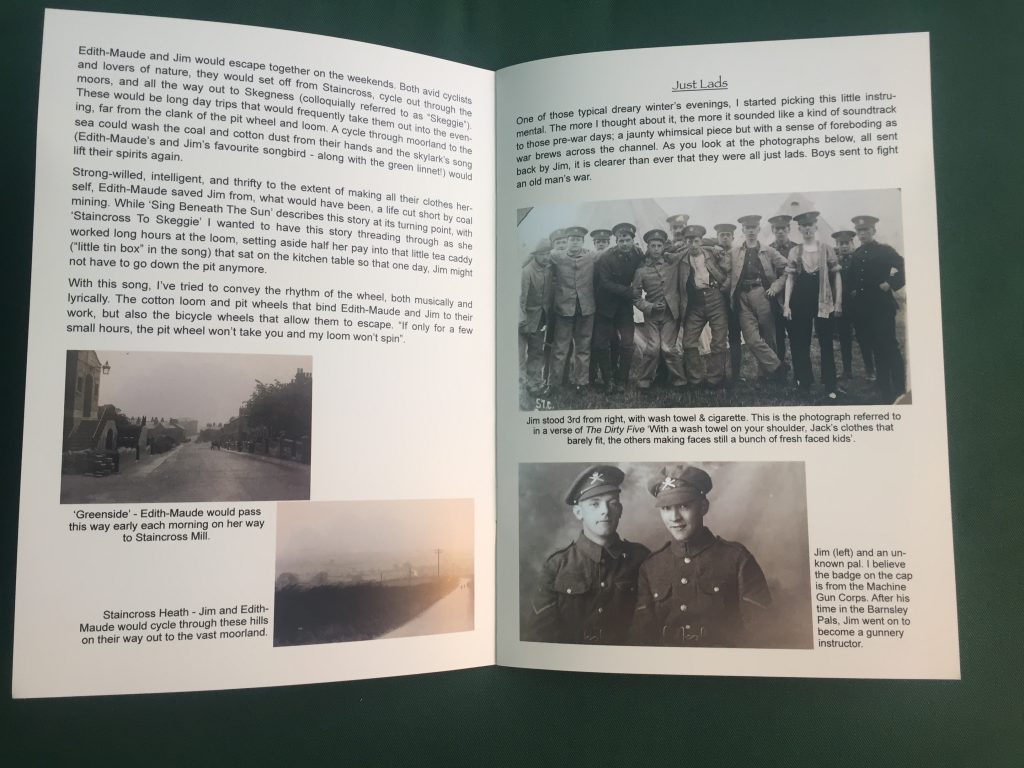 All tracks recorded & mixed by Sam Jefferson except 'Gawber Hole' & 'The Dirty Five' recorded & mixed by Ed Bersey
Mastered by Ed Bersey at Sylvafield Studios
Photographs taken by Shay Rowan at National Coal Mining Museum
©℗ Sam Jefferson 2018 All rights reserved
Sing Beneath The Sun

Sam Jefferson

4:37

Staincross to Skeggie

Sam Jefferson

5:18

Just Lads

Sam Jefferson

1:42

The Dirty Five

Sam Jefferson

6:52

Mademoiselle From Armentières

Sam Jefferson

3:06

Wessex Heights

Sam Jefferson

5:25

Nowell Oxland

Sam Jefferson

6:38

They'll Have Called The Whole Thing Off

Sam Jefferson

5:47

Gawber Hole

Sam Jefferson

3:48

Sammy The Last Pit Pony

Sam Jefferson

4:14
Music & Lyrics by Sam Jefferson
Vocals, Acoustic guitars, Electric & Slide guitars, Bass, Percussion – Sam Jefferson
Ed Bersey – Drums (Gawber Hole & Sing Beneath The Sun)
Ruth Owens – Harmony vocals (Staincross To Skeggy & Sing Beneath The Sun)
Matt Steady – Violin (Sing Beneath The Sun)
Chris Terepin – Viol (Staincross To Skeggy & Nowell Oxland)